The British Burger Bar
The British Burger Bar is available for catering events large and small across Somerset, Devon and Dorset. You name it, we can cover it.
We provide delicious hot food using quality ingredients and our menu includes burgers, hot dogs, sausage baps, egg baps, breakfast baps, chips & cheesy chips with all the condiments. A huge selection of cold drinks along with a selection of hot drinks can be purchased from The British Burger Bar
We adhere to strict hygiene rules and are proud to hold a 5 star food hygiene rating. Our polite, courteous, friendly staff aim to deliver the highest levels of service to our customers.  please take a look of the type of events we cover from the list.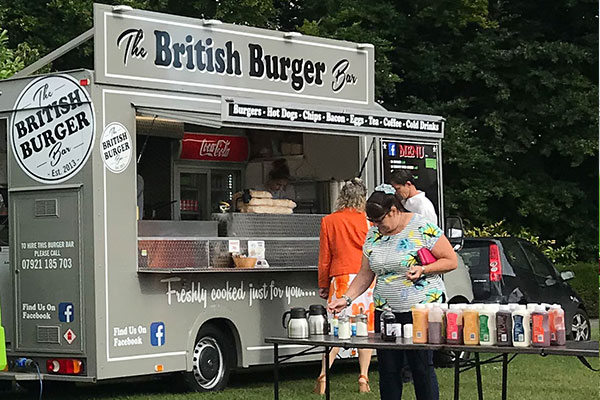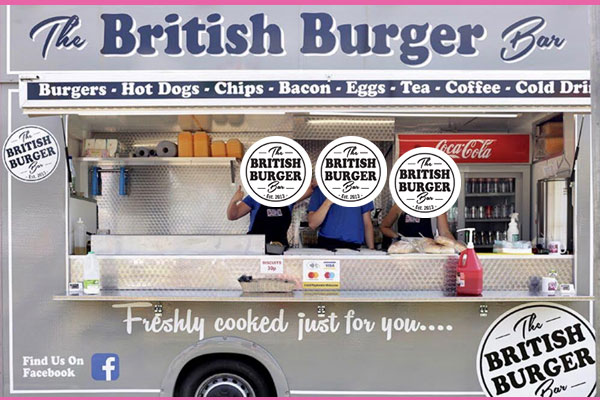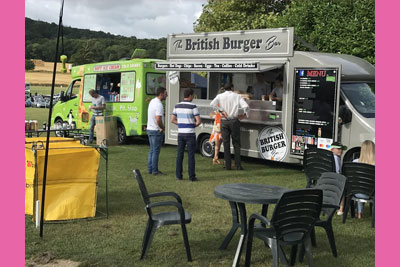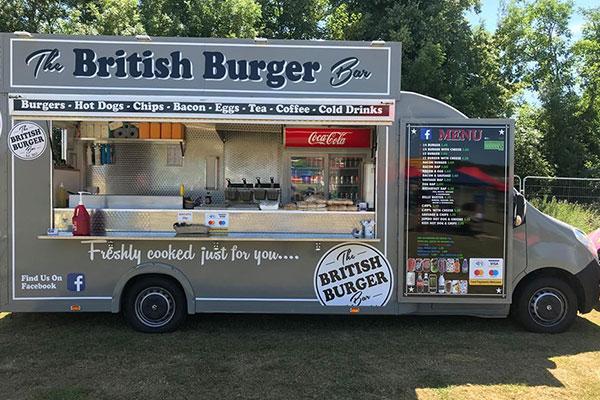 What our customers say…
After posting an ad for a local festival I was organising last year, Alfie's Catering approached me with interest in providing catering facilities.

The team at Alfie's Catering came along with both the Ice Cream van and The Burger Bar.

The team were very professional and great to get along with and provided high quality and great food for the guests that attended the festival.

Feedback from our guests after the event were fantastic as well and they offer affordable prices for the fantastic food they deliver.

They provided me with all the correct documentation beforehand to get the ball rolling and made booking them in very easy, simple and they were reliable.

They could have even left the event earlier than they did but they were kind enough to carry on serving right up until the close of the festival late in the evening!

Perfect for any outdoor style events so I would highly recommend them as a caterer!

Thanks again guys 😊👍
All events catered for – big or small…
Weddings  •  Family & Birthday Parties  •  Charity Events  •  Sporting Tournaments  
Community Events  •  Trucks & Horse Shows  •  Car Shows  •  Music Events  •  Festivals  • Carboots
Covering Devon, Somerset, Dorset and the Southwest
Ilminster  •  Chard  •  Taunton  •  Exeter  •  Dorchester  •  Devon  •  Somerset  

Got an event you want to chat to us about?
Simply pop us your enquiry below or call 07921 185703
Allergy Information
Customers are advised to let us know if any food may cause an allergic reaction prior to order. Items may contain or have come in contact with peanuts, soybeans, milk, eggs, wheat. If you would like to know the list of ingredients used in a particular item we will be
HAPPY TO ASSIST YOU!
Customers say…
Fantastic service and food provided for my husbands birthday party .
Everything was setup and ready for when our guests arrived. Completely stress free and all my guests enjoyed the food. I definitely would highly recommend !
I would definitely recommend Alfie's catering, we ran a two day football tournament where Alfie's catering provided us with an ice cream truck and food van, the quality of both was outstanding.

If anyone is looking for High quality food and great people for any event I would definitely recommend these guys 👍🏻
I used Alfie's Ices for a number of events I was organising for the school I work for last June. They were professional from the time I booked to the time they left the last event. I can not rate them enough! Everyone enjoyed it, the Ice Creams were amazing. Would definitely recommend their services and have already booked them in for this year's events. Thank you so much for everything.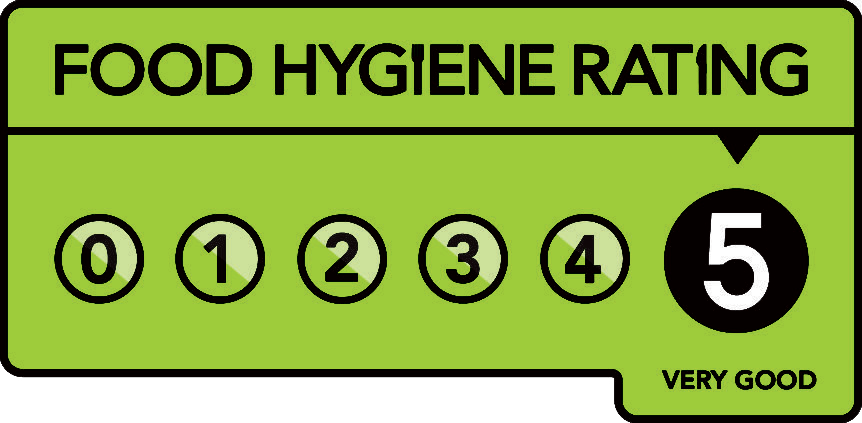 Contact us…
Telephone: 07921 185703